VIDEO
ARTICLES
# 4  DUKE shoots  65%  – Knocks off  # 2  Wisconsin                                                  ( espn.go.com )
Postgame NOTES                                                                                                                            ( goduke.com )
In TYUS JONES Duke Trusts                                                                                                  ( espn.go.com )
Instant Analysis of DUKE's Win against Wisconsin                                                 ( USAtoday.com )
Takeaways from the Win over Wisconsin                                                                       ( dukereport.com )
TWEETS
Now THAT is an impressive win! No. 4 Duke shoots ridiculous 65% on way to 80-70 victory at No. 2 Wisconsin.
Player of the game @Tyusjones06 on the Sportscenter set with Announcer of the Game @JayBilas. Sorry @DShulman_ESPN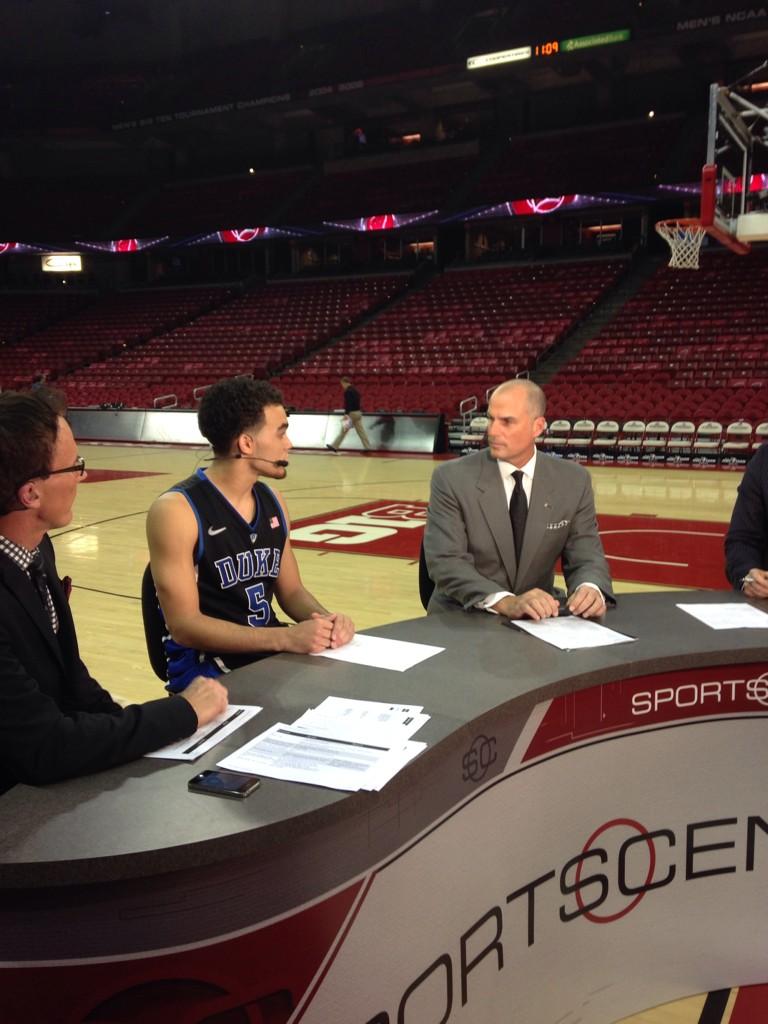 DUKE WINS IN MADISON! Blue Devils 80, Badgers 70. #GoDuke
Halftime stats – Duke up 35-32. @QCook323 & @Tyusjones06 each with 8 pts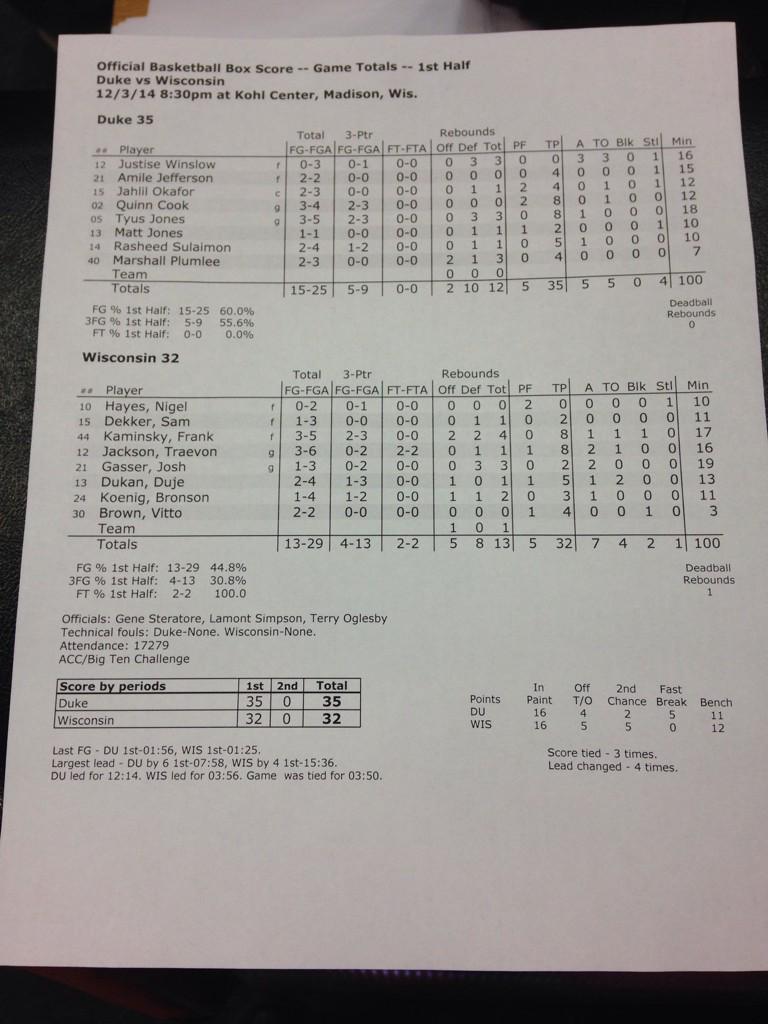 Great team win. Our guys showed a lot of HEART and toughness! #dukebasketball
Great win tonight. Really proud of these guys! Thanks to them for making this trip to Madison a little better than the last time!!
It's just getting started lol. Big time win #DukeNation
Proud of my guys… Way to eat fam @Tyusjones06 @Chief_Justise @BigJah15 @sheed_ctmd1 @QCook323
Blue Devils don't play again until Dec. 15 vs. Elon and shot 65.2 percent from the field, breaking the curse of the black jerseys
Coach K: "It was a great crowd tonight, incredible atmosphere. Great night for college basketball." #Badgers
"We knew we had to lean on each other because it was going to be us against everybody in there."—  Tyus Jones.
"We stuck together. That's the main thing. And we prepared. They are a great team."   Sheed
DUKE Toughness (up & down roster ) showing itself on the Road , Big Stage . "Talent wins games…Minds win Championships "
DukeReport.com @DukeReport · 
Duke just beat the toughest team it will likely face during the regular season by 10 points on the road.
Rasheed Sulaimon has made all kinds of winning plays down the stretch in this game. Fantastic performance by him.
I really like this Duke team defensively. Best I have seen in a while from Blue Devils. Winslow sets tone, Cook improved, Sulaimon good.
Coach K told me that last wing player he had who could guard as well as Justise Winslow out of the gate was Grant Hill.
Yes, Duke is really, really good — and likely only getting better. Much better this season defensively, really efficient offensively.
Duke missed three shots in the final 7:30 of the game. Only missed six the entire second half. Shot 71.4 percent after halftime. #Badgers
Bo Ryan on Duke: "They're better than us right now. No question." #Badgers
Coach K on #Badgers: "I've always admired Wisconsin. I was recruited by Wisconsin. Always had a real deep feeling for the state."