VIDEO
Postgame: Coach Terry Stotts on Lopez's injury, bench depth, success against Spurs
WATCH:   http://Rip.City/72nz 
Postgame: @Dame_Lillard on staying focused against shorthanded Spurs, Lopez's injury
WATCH:     http://Rip.City/b4g3 
ARTICLES
Lillard, Aldridge lead Blazers by shorthanded Spurs                                               ( espn.go.com )
Postgame QUOTES                                                                                                                        ( NBA.com )
Rapid Reaction :  Taking Advantage                                                                                   ( CSNNW.com )
ROBIN LOPEZ discusses Hand Injury                                                                             ( forwardcenter.com )
Injury to LOPEZ could effect entire season                                                                    ( CSNNW.com )
TWEETS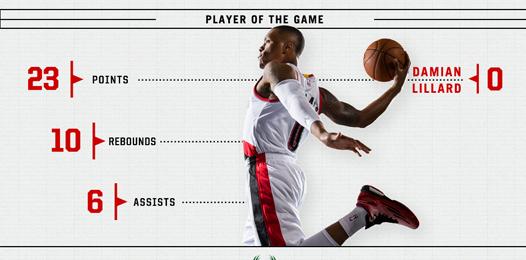 Last time a #Blazers PG got a triple-double was 4/15/05, when Damon Stoudamire had 18pts., 12 rebs, 11 asts vs. GS. Lillard 4 assists away.
Tonight's game was the first time this season that the Trail Blazers didn't notch at least 20 assists.
Terry Stotts usually writes the quarter by quarter DefRtg on the white board in the Blazers locker room. Tonight had 119 in 3Q underlined
Coach Popovich giving Terry Stotts tips on good wineries near Dundee out in the hallway postgame
Stotts said he has not yet decided how the rotation will shake out with @rolopez42 out indefinitely, but assume @ChrisKaman gets the call.
Robin called the injury frustrating. No timetable for his return.
'@rolopez42, out indefinitely with broken bones in a hand, has played in 265 straight games dating to late in the 2010-11 season with Suns
RoLo talking about having not missed a game in a while, prompting Will Barton to knock on wood. RoLo: "Well, it's already broken, so… "
'@aldridge_12 on the loss of @rolopez42: "I don't like it. I don't like it. I don't like it. That's it. Can't get past 'I don't like it.' "
'@Dame_Lillard on loss of @rolopez42: "Don't even want to think about it. Rolo covers up mistakes. He's the most unselfish guy on our team."
Blazers G @CJMcCollum (broken finger) is close to return: "I'm good to go, as long as I can get a practice in and the coaches can see me."
END Q3: #Blazers 76, @Spurs 68 PTS: LA/Dame 18 REB: LA 11, Dame 9 AST: Dame 6 #PORvsSAS — http://Rip.City/LiveStats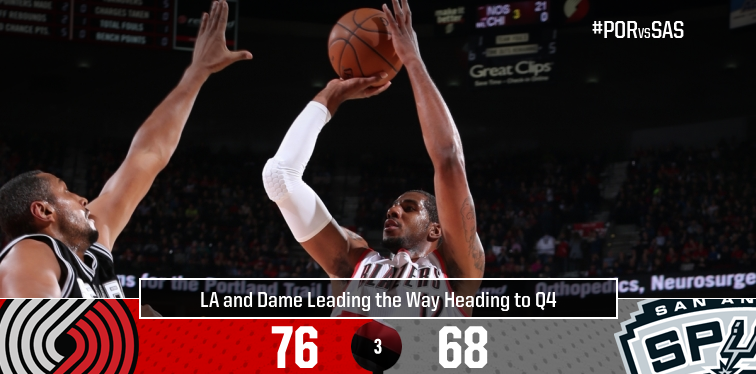 HALFTIME: @Blazers 48, @Spurs 43 PTS: Dame 12 REB: Dame 6 AST: 2 with 3 #PORvsSAS —     http://Rip.City/LiveStats