VIDEO
ARTICLES
CAROLINA  tops  #18  Florida  75-64                                                                                   ( goheels.com )
Adam Lucas  :  Rapid Reactions                                                                                             ( goheels.com )
TWEETS
FINAL: UNC beats Florida, 75-64, to improve to 5-1 this season and go 2-1 in the #Battle4Atlantis.
UNC guts a double-digit win out despite turning the ball over 19 times and allowing 18 offensive rebounds.
Tar Heels beat a ranked team for the second night in a row. UNC will return to action next Wed. at home vs. Iowa in ACC/Big Ten Challenge.
Not exactly what we wanted to accomplish, but 2 tough wins against very good teams is something we can build on!
Tar Heel stats from the win over Florida.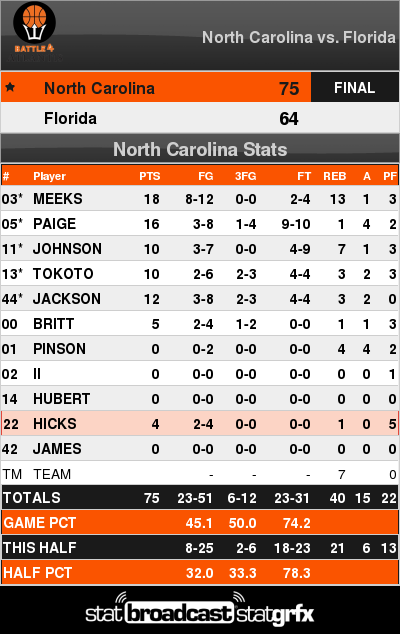 Kennedy Meeks has tied his career high with 13 rebounds. #Battle4Atlantis
Meeks was big in the second half, scoring 10 of his team-high 18 points. Also pulled down 13 rebounds.