VIDEO
ARTICLES
SPEIGHTS rallies Warriors to comeback Win                                                              ( csnbayarea.com )
WARRIORS rally past Hornets for 8th straight Win                                                ( insidebayarea.com )
Warriors SPEIGHTS making huge contribution off the bench                           ( insidebayarea.com )
STEPHEN CURRY cut down Turnovers after making Bet with Mom              ( insidebayarea.com )
TWEETS
The victory moves the Dubs' win streak to 8 games and their franchise-best start to 13-2. Next up: the Pistons in Detroit on Sun. @ 12:30pm
Warriors have the second-best record in the NBA.
Great win @ Charlotte! That boy @Mospeights16 !!! #fire Great way to end my Birthday! Appreciate all of the birthday wishes too interneters!
The @Warriors won at the "Charlotte Hornets" for the 1st time since @StephenCurry30's dad Dell Curry was a starter for the Hornets (1996).
.@warriors extend their winning streak to eight with a win tonight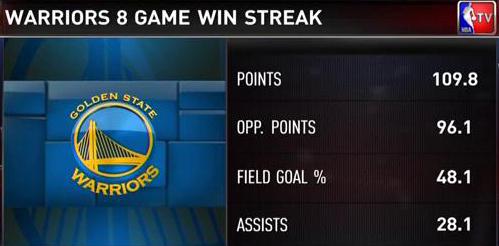 Leandro Barbosa said he was out due to his hamstring related to the knee injury.
Steve Kerr halted his postgame news conference twice to hug Dickie Simpkins and Michael Jordan.
Michael Jordan in the cap after hugging Steve Kerr
Steve Kerr: "Mo Buckets, man. The guy saved us again."
Steve Kerr to the point where he's saying the Suns looked at drafting Marreese Speights when he was GM.
Steve Kerr on MVP talk for Stephen Curry: "We're a month into the season."
Isiah Thomas told Sirius XM Stephen Curry is NBA's best point guard. "He's also trying to dominate you on the defensive side of the ball."